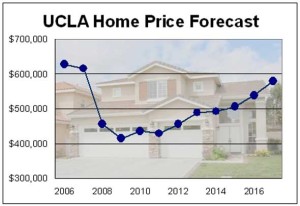 If you bought a home during housing's price peak in 2006 or 2007, don't expect to see its value to get back to what you paid for it by 2017.
But if you buy this year, you could see your home's value rise around 34.6% within the next six years — a gain of about $149,000 on a median priced home.
That's the forecast for Orange County home prices unveiled this week by the UCLA Anderson Forecast.
According to the forecast, the median price of an Orange County home still won't get back to the peak reached in the housing bubble in 2017, a decade later.
This latest outlook is more pessimistic than past forecasts. This time last year, UCLA economists predicted that home prices would get back to peak levels in Orange County by 2016, when the median home price would reach nearly $640,000.
Overall, Orange County is doing better than most California counties in pulling out of the recession, according to UCLA's 2012 economic forecast. But O.C. residents won't see significant job growth until 2013.
Although consumer confidence remains dampened, the outlook for housing and commercial real estate is projected to be an upward trend over the next six years.
UCLA's real estate outlook found that the median O.C. home price peaked at $627,548 in 2006, then fell 34.1% — or $214,000 — to the slump's price bottom in 2009.
By 2017, the forecast states, O.C. home prices should rise 39.6% from the 2009 bottom to $577,574 — up $164,000 from 2009, but still shy of the 2006-07 price peaks.
"Home sales and prices have backtracked slightly in Orange County over the past year. After recovering from the lows observed in early 2009 the housing market has struggled to build any momentum," the forecast said. " … But as the economy improves and foreclosures are resolved we expect to see a gradual rise in sales and prices."
In addition, the forecast says:
Orange County home sales are projected to begin rising after three years of stagnation, climbing through 2015. Sales — which sank to a low of 24,476 in 2007 — are expected to stabilize in the range of 34,000 to 38,000 sales a year from 2012 through 2017.
Orange County homebuilding, which jumped 60% in recent years, is projected to continue climbing through 2015, when 10,855 homes are projected to be built (compared to a projected total of 5,224 units this year). That's up from a low of 2,200 housing units built in 2009.
However, the nature of construction is shifting from single-family homes to apartments and condos. Over the next 5 years, the forecast has 17,600 single-family homes and condos being started, while multi-family construction will total 26,400 units.
The uptick in default notices filed in August is not projected to signal a relapse into higher foreclosure rates, which would be a drag on the market. Foreclosures, which have been in a slow decline over the past two years, are not projected to flood the market again.
All commercial real estate markets will remain fragile over the next year, due in large part to slow employment growth and an environment of high unemployment.
But commercial and industrial construction is projected to rise 47.9% over the next six years to $1.8 billion in 2011 dollars, up from $1.2 billion this year. Commercial and industrial construction fell to a low of $987 million in 2009.
Occupancy has already turned and will continue improving for all office space in Orange County in 2012 and 2013. Use of existing office space will rise gradually through 2013 because office job creation will continue, accelerating by the second half of 2012.
To read Register writer Mary Ann Milbourn's full report on the UCLA 2012 forecast, CLICK HERE!