Have to say this is an honest assessment of a 2014 Real estate forecast. Anywhere from 5-7 appreciation for homeowners in 2014. We'll probably see more contingent offers as equity sellers look to move up or down size.  Long article, but must read material.

By Jeff Collins
From OC Register.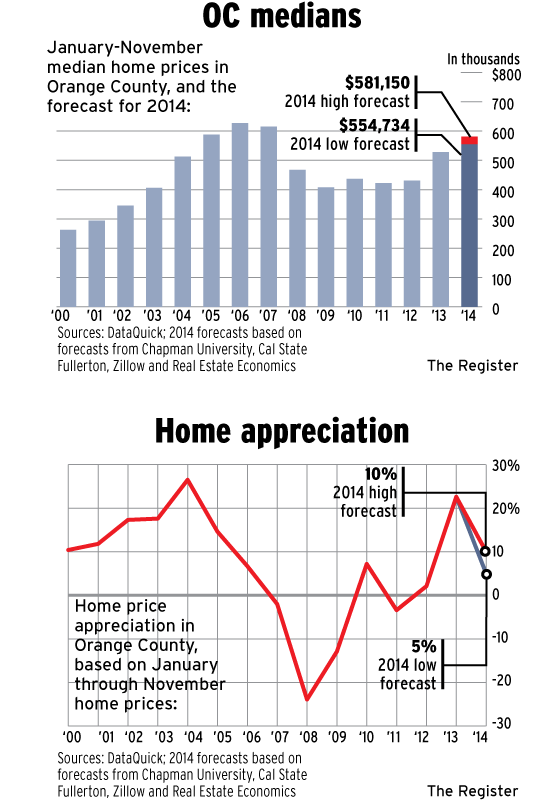 Gabe Cole bought and sold 15 homes last year as part of his sideline as a house flipper.
This year, however, the Newport Beach real estate broker anticipates his side business will slow down because foreclosures and short sales are drying up.
While 2013 was the year of get-in, get-out quick house flips, he expects to do more in-depth remodeling work on higher-priced properties in 2014. "Since there are fewer short sales and fewer foreclosures out there," Cole said, "there's less business to go around."
Many economists agree. They predict 2014 will see more investors retrenching and more buyers putting roofs over their own heads. That's not the only big change ahead. Home prices are expected to stabilize this year, while homebuilding will be more frenetic.
"The housing market has staged a spectacular recovery over the past year," Cal State Fullerton economists Anil Puri and Mira Farka wrote in their 2014 economic forecast. "More recent data, however, point to a softening of these trends."
Here are eight of the top real estate trends we're likely to see in 2014.
1. Lower home price appreciation
Last year, home prices soared. The 2013 appreciation rate through November was 22.6 percent year to date, DataQuick Information Systems figures show. That's the biggest jump in nine years.
This year, price increases will be smaller. Chapman University economists say Orange County home prices will rise about 5.6 percent this year. Cal State Fullerton forecasters put price appreciation in the 5 percent to 7 percent range. Online site Zillow expects local home prices to rise 7.2 percent. Irvine housing consultant Mark Boud forecast a 10 percent gain.
More homes will be on the market. Fewer investors will be bidding on them. Higher prices and mortgage rates mean homes are less affordable than a year ago. For example, the typical Orange County mortgage payment increased by $600 a month last year – from $1,990 a month in January 2013 to $2,611 in November.
"That means appreciation won't be strong," said Chapman University economist Esmael Adibi.
Boud, president of Real Estate Economics, said this is just the beginning. He says appreciation rates will continue dropping over the next five years, falling from 10 percent this year to 6 percent in 2015, 3.5 percent in 2016 and less than 2 percent in 2017-18.
"This is a very front-loaded price appreciation cycle," Boud said. "The market remains healthy, but there's no way we repeat almost 20 percent price appreciation in one year."
2. More inventory
You can expect to see more people putting their homes up for sale this year.
The number of homes on the market doubled from early 2013 to the fall, climbing from under 3,200 in March to more than 6,000 in November. "This trend should continue," Chapman University's forecast said.
CoreLogic reported that rising prices pushed 53,000 underwater homes above water last year – meaning the owners regained equity and no longer owed more than the values of their homes. That frees up owners to sell.
Some of those homeowners, Chapman said, "will take this as an opportunity to either downsize their financial obligation or consider relocating."
Other property owners also may take the opportunity to get their lives off hold and take advantage of higher home prices.
Donald and Stacy McCray are among them. Because of last year's price gains, they believe now is the time to list their two-story Orange Park Acres house so Donald McCray, a railroad conductor, can move closer to work in Los Angeles. They plan to put their home up for sale later this month.
"I'm hoping that, since interest rates are still low, it's a better opportunity not only to sell, but to rebuy," Donald McCray said.
Another factor: New home construction is expected to increase further this year, further boosting options for home shoppers.
3. Improving economy creates more buyers
Cal State Fullerton and Chapman economists project that Orange County employment will increase by 35,000 jobs this year. That, in turn, will increase demand for housing.
"Unless you believe those people are going to stay in their parents' houses forever, something's got to give," said Robert Denk, an economist with the National Association of Home Builders. "Those people are going to move out and (create new) households."
At the same time, investors are likely to buy fewer homes. Higher prices and slower appreciation are making it harder for speculators. Ladera Ranch house flipper Robert Ganum expects to buy half as many homes this year as he did in 2013. Instead, he's planning to switch to investing in apartments, commercial properties and possibly development.
Investors' share of home sales fell steadily throughout the year, from 27 percent of buyers in January to 21 percent in November, DataQuick figures show.
"Going forward, demand will be by people who are going to live in the homes," Puri said.
4. New home sales to rise
Orange County homebuilding rocketed back to pre-recession levels in 2013. This year, the number is expected to go even higher.
Chapman University projects that the number of new housing units will rise from 8,600 in 2013 to 9,800 this year. That's the most since 2002.
Nationwide, forecasters expect the number of housing starts to range from 1.19 million to 1.25 million, up from 975,500 in 2013.
Builders are compensating for years of sub-par construction levels, said Denk, the NAHB economist. "There's a huge construction deficit," he said.
An increase in homebuilding means that new home sales should go up, too.
When construction levels fell, "buyers were forced into resale homes," Boud said, which meant that new homes accounted for less than 8 percent of sales. Before the housing crash, new homes accounted for 11 percent to 19 percent of all homes sold.
Many buyers prefer newer homes, which have the latest designs and are more energy efficient.
"The reason (new home) sales will increase is we are supplying more product," Boud said.
5. Mortgage rates to rise
Interest rates for 30-year, fixed mortgages likely will rise this year, averaging somewhere in the 4.9 percent to 5.3 percent range, forecasters say.
That's still low historically, but well above rates for the past 2 ½ years.
The average rate for a 30-year fixed mortgage had been solidly below 4 percent since late 2011. Last summer, it spiked to 4.5 percent.
The Federal Reserve's decision last month to start reducing purchases of Treasury and mortgage-backed bonds likely will push up mortgage rates. But not wildly.
"Rates are not going to soar because we're still in a pretty weak economic recovery," Denk said. "When the dust settles, (rates) are still a bargain."
6. Credit may get easier
After years of tight lending standards, homeowners definitely will have an easier time getting mortgages, said Svenja Gudell, Zillow's director of economic research.
After last summer's 1-percentage-point increase in mortgage rates, the refinancing business dried up for lenders.
"They want to fill that void with purchase money loans," Gudell said. That may mean lenders may approve loans to borrowers with lower credit scores or higher debt.
"So we'll see a lot of people who couldn't get a mortgage in 2013 able to get a mortgage in 2014," she said.
Others, however, aren't so sure.
For one thing, new federal lending standards will take effect on Jan. 10, meaning that some borrowers will get more scrutiny and less money. The new rules will have little effect in most cases, Gudell said, since most loans already meet the new standards.
Chapman University's Adibi said, however, that lenders will have more leeway with the loans they plan to hold in their portfolios. Tougher standards still will apply for loans that financial institutions plan to sell to mortgage giants Fannie Mae and Freddie Mac or elsewhere on the "secondary" mortgage market.
"Banks are eager to boost their lending," Adibi said. "However, rates and requirements depend on the type of financial institution (offering the mortgage)."
7. Rent continue rising
Apartment rents have climbed steadily in Orange County for three years. Forecasters say renters should expect that to continue, although perhaps not as much as in 2013.
Asking rents at large Orange County complexes rose 4.9 percent in the year ending in September, according to apartment tracker RealFacts. This year, renters can expect rents to rise 3 percent to 5 percent, Cal State Fullerton's Puri said.
Rent hikes "may not be as explosive as in the past few years," Puri said. "But there's no chance they're going to come down."
8. Commercial recovery remains slow
Forecasters say vacancies will drop and rents will rise this year in office buildings, shopping centers, factories and warehouses. More deals will get done and sale prices for buildings likely will go up.
Nonetheless, the rate of recovery is expected to remain at moderate levels for commercial real estate.
Commercial real estate recovery "tends to lag broader economic growth," said Deloitte & Touche's 2014 outlook.
Nationally, commercial rent hikes are projected in the 2.2 percent to 2.5 percent range this year, according to the National Association of Realtors forecast.
In Orange County, rent hikes will be in the 4.5 percent to 5 percent range, said Jerry Holdner, vice president of market research at Voit Real Estate Services. Vacancies for office space will drop by about 1 percentage point but remain above 11 percent.
"I think Orange County is going to do better than most markets, but it's still going to be moderate," Holdner said.