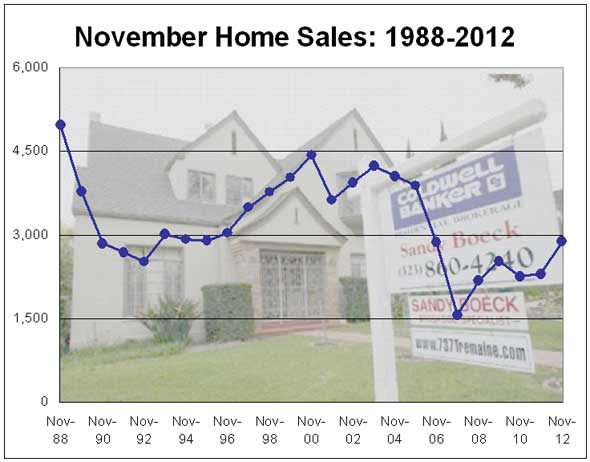 Orange County home sales hit their highest level for a November last month in seven years, soaring 25.3 percent over the sales pace of the previous year, housing market tracker DataQuick Information Systems reported today.
Home prices, meanwhile, hit a five-year high for a November, rising $50,000 — 12.5 percent — from last year.
According to DataQuick:
Sales
Orange County homeowners closed 2,879 home sales last month. That's up from 2,297 in November 2011 and the highest number of homes sold since November 2005, the year the housing boom ended. November marked the 10th consecutive month of annual sales gains. Sales were down from October levels, which is the typical seasonal pattern. Home sales here have declined from October to November in 22 of the past 25 years during the traditional holiday season slowdown.
Last month's sales still were 11 percent below the November average of 3,229. Sales continued to climb year-over-year last month despite a record low number of homes for sale. Steve Thomas of ReportsOnHousing.com reported this week that there were 3,428 homes for sale in O.C. as of Dec. 6 — the smallest number since at least the summer of 2004.
Price
The median Orange County sales price — or price at the midpoint of all sales — was $450,000, vs. $400,000 in November 2011.
It was the seventh consecutive month of annual price gains. The Orange County median price has been at $450,000 and above just seven times since home prices crashed in late 2007 and 2008. It's been above $450,000 just twice — in June ($453,000) and October ($455,000). At $450,000, the median home price continued to linger at December 2003 levels and remains$195,000 — or 30.2 percent — below the all-time high of $645,000 hit in June 2007. DataQuick said that the Southern California housing market "continued its gradual recovery" in November, crediting improved sales and prices to "extraordinarily low mortgage rates."
OC Register- Jonathan Lansner