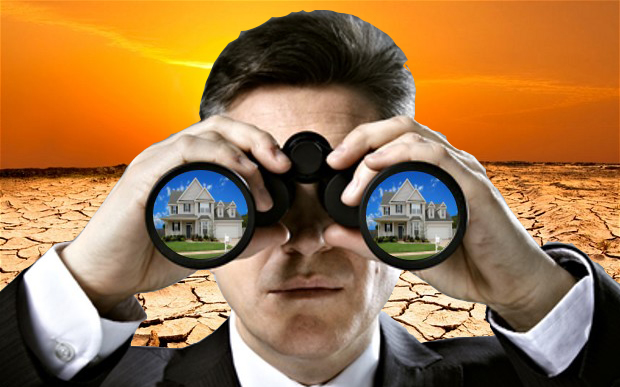 For the past seven years there have been significantly fewer sellers
coming on the market.
Not Enough Sellers: since 2009, fewer homeowners have been diving into real estate in spite of massive appreciation.Home values have risen tremendously since the beginning of 2012. With a return of equity, logically you would think that there would also be a return of the number of homeowners opting to sale. However, that has not been the case. It makes sense that fewer homeowners decided not to sell from 2008 through 2011. Those were the years that values took a pounding and homeowners witnessed the equity in their homes vanish. Since 2012, those same homeowners have watched their equity return; yet, 2012 through 2015 all posted the lowest number of homes to come on the market since the turn of this century. As a matter of fact, from 2000 through 2007, there were an average of 1,500 additional homes that popped on the market every single month compared to the past four years. That's an additional 18,000 homes.
Based upon 2015 closed sales, the turnover rate for the Orange County housing stock is once every 23 years. That's an improvement over 2014, once every 24 years, but not by much. The lowest turnover rates in the county can be found in Cypress, Fountain Valley, La Palma, and Westminster. These cities' homes are turning over at a rate of once every 30 years or longer. There are a few exceptions; Aliso Viejo, Ladera Ranch, Laguna Woods, Los Alamitos, and Mission Viejo all have turnover rates of 15 years or less. But, based upon current trends, gone are the days of homeowners moving every 7 years.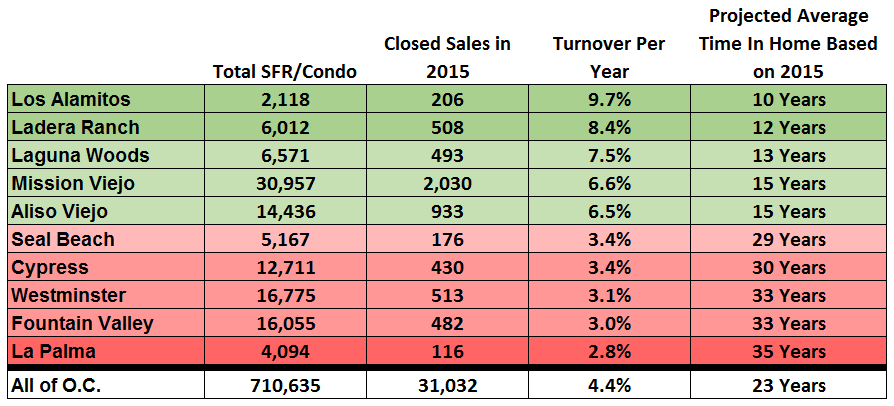 So, why aren't homeowners moving like they did a decade ago? There are a number of factors that illustrate why they are staying put. The homeownership rate for 18 to 34 year olds has been dropping since reaching a height in 2005, and about a third of all millennials live with their parents. Ultimately, that delays would-be empty nesters from downsizing. Also, there aren't as many new homes being built in Orange County, especially below the $1-million mark. This used to create a lot more real estate activity as many locals bought new, but had to sell their existing homes first. With the county running out of vacant land, this will be an ongoing issue.
Another factor that helps explain why homeowners are not moving as often as they used to is that owning a home long term and paying off the mortgage is now in vogue. The severity of the Great Recession rattled our collective psyche and people now look at home ownership a bit differently. As is typical in the Midwest, people want to hang onto their homes and dig in their roots.
One of the biggest factors, that is talked about in the real estate trenches on a daily basis, is that homeowners are afraid to sell their home only to turn around and find nothing available to buy. Essentially, the low inventory is preventing would be sellers from coming on the market, which only exasperates the problem. Yet, there are ways around this dilemma. A double move is a solution, where a homeowner sells their home, moves into a monthly rental, and then takes their time to isolate the most ideal home for their family. Moving companies work with the double move scenario often and can crate and store whatever will not be used at the short term rental. Another solution is for a seller to accept an offer to purchase with the condition that they are able to find a replacement property within a specific time period, 30-days being most common. If they are unable to find a replacement home within the given time period, then the contract is cancelled or additional time may be negotiated.
The current trend of an underwhelming annual inventory and a low housing turnover rate is not going to change anytime soon. With that knowledge, buyers and move-up (or move-down) sellers need to approach the market with realistic expectations and plan accordingly, utilizing the expertise of a professional REALTOR®.
Active Inventory: the inventory increased by 6% in the past two weeks.
The active inventory increased by 298 homes, or 6%, in the past two weeks and now sits at 5,271, the largest increase since May 2014. More homes are finally coming on the market after a lackluster start to 2016. 9% fewer homes entered the fray in January compared to 2015. More homes are coming on the market in February, so the annual difference to date is now only 3% fewer.
Last year at this time the inventory totaled 5,433 homes, 162 more than today, with an expected market time of 1.88 months, or 56 days, a seller's market. Today's expected market time is at 2.04 months, or 61 days, still a slight seller's market. A slight seller's market means that there is not much price appreciation but sellers get to call more of the shots in terms of negotiating the finer details of a contract.
Demand: in the past two-weeks demand increased by 10%.
Demand, the number of new pending sales over the prior month, increased by 242 homes in the past two-weeks, and now totals 2,584, the highest level since September of last year. Demand had looked a lot like 2014 for the first 6-weeks of the year, but broke away in the past couple of weeks. Demand is now 5% higher than two years ago, 126 additional pending sales.
However, today's demand is nowhere close to 2015, 11% less than the 2,891 pending sales posted a year ago. That's 307 fewer and has resulted in a noticeably different housing market. In spite of the low expected market time (the amount of time it takes to place a home listed today into escrow), buyers are not willing to budge much higher in price than the most recent comparable pending and closed sales, also known as the Fair Market Value. Thus far in 2016, homes that are not priced well are still realizing plenty of showing activity, but are not receiving any offers to purchase. Pricing is currently crucial in order to find success.
Expect demand to continue to increase methodically through March and then remain elevated through the end of Spring, mid-June.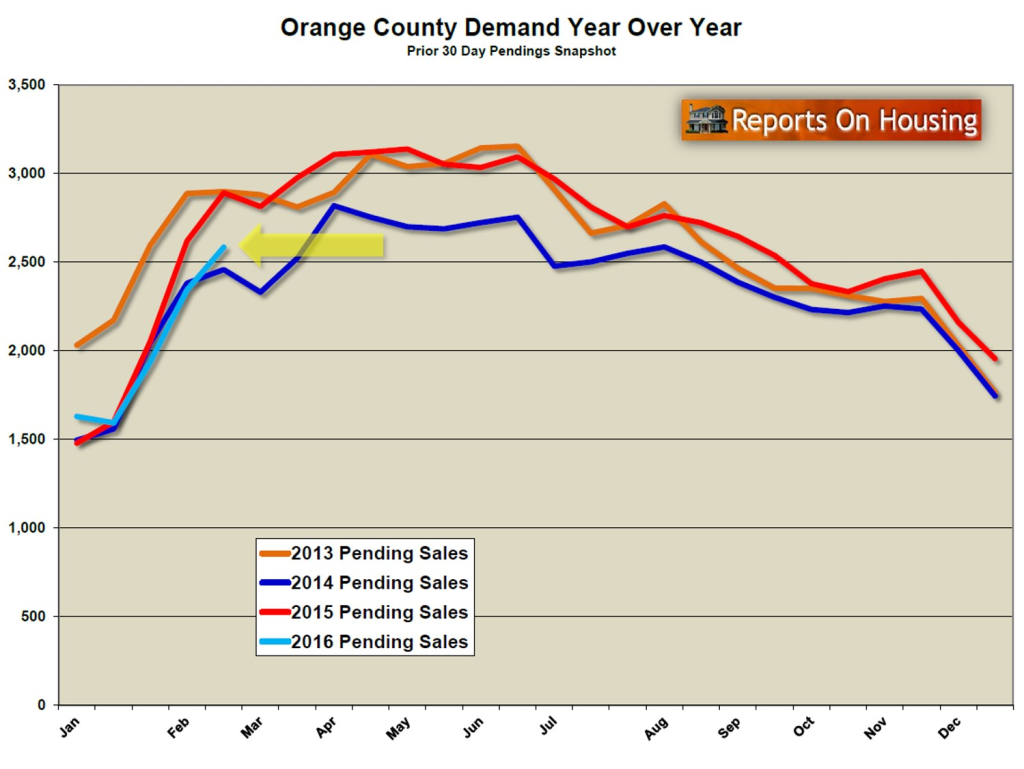 Summary: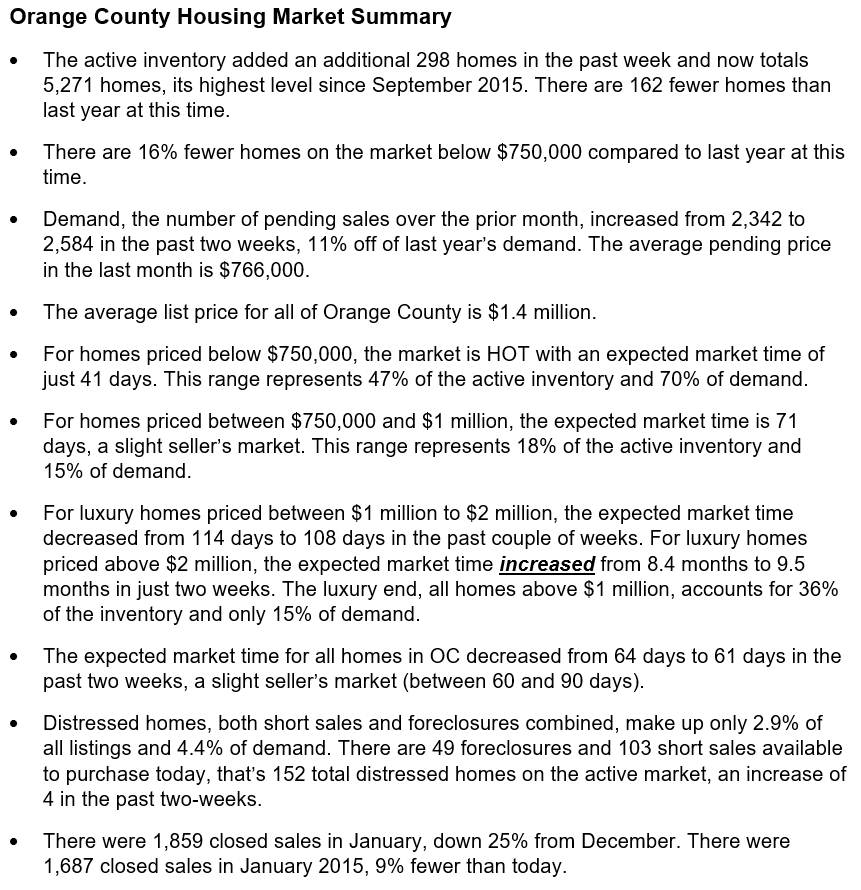 Have a great week.
Sincerely,
Roy Hernandez
TNG Real Estate Consultants
Cell 949.922.3947