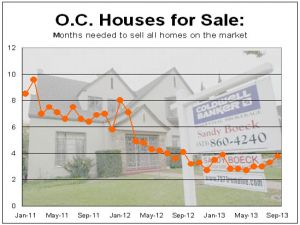 The median price of an existing Orange County house increased 19.7 percent in September year over year, but house sales declined slightly over the same period last year, the California Association of Realtors reported Thursday.
The Realtors report mirrors the trends DataQuick reported for county house sales on Wednesday.
The CAR report covers only existing single-family home sales. Specifically, the Realtor association said:
The median price of an existing Orange County house was $672,680 in September, up by nearly $111,000 from September 2012 levels. DataQuick, by comparison, reported that the median price (or price at the midpoint of all sales) was $612,000 for single-family homes.
House sales in Orange County decreased 1.6 percent from September 2012. DataQuick figures – based on county deed filings rather than Realtor-maintained multiple listing databases – showed a 0.5 percent drop in sales of existing houses, but reported an increase overall when including existing condos and new homes of all types.
It would take 3.8 months to sell all the houses on the Orange County market at September's sales pace, compared to 2.8 months in March, an indication that the supply of homes for sale is rising.
Statewide, median house prices increased 24.4 percent last month from September 2012 levels, rising to $428,810. Condo and townhome prices increased 30 percent to a median price of $344,210.
House sales decreased 2.6 percent statewide to an annualized rate of 412,880. Condo and townhome sales increased 13.4 percent year over year.
Elsewhere in Southern California, house prices increased 23.1 percent to $459,020 in Los Angeles County; 28.2 percent to $293.560 in Riverside County; 23.8 percent to $185,860 in San Bernardino County; and 21.1 percent to $490,130 in San Diego County.