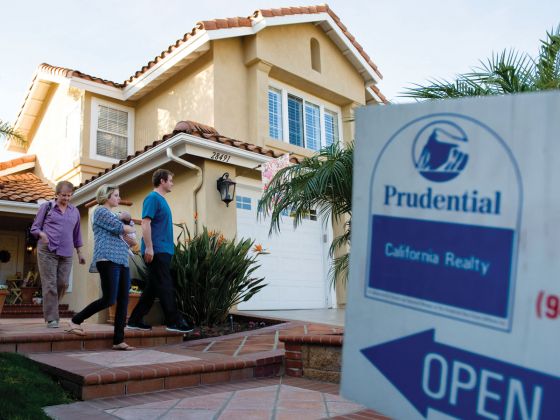 BY JEFF COLLINS / STAFF WRITER
Published: Feb. 12, 2014
Updated: Feb. 13, 2014 7:08 a.m.
Orange County home sales continued to swoon last month in the face of elevated prices and higher interest rates.
Housing market tracker DataQuick Information Systems reported Wednesday that sales closed on 2,205 houses, condos and newly built homes in January, down 9.3 percent year-over-year to the lowest number in almost two years.
But the median price – or price at the midpoint of all sales – hovered at $550,000, due in part to an increase in sales of larger and more expensive homes, market observers said.
Last month's median home price was the third highest for a January in records dating back to 1988, DataQuick figures show.
"We have slowed down a little in the number of sales we're seeing, (but) not necessarily in prices," said Kim Rossi of Berkshire Hathaway Home Services in Monarch Beach.
"Last year, the market was unbelievable," added Keller Williams Realty agent Reza Shirangi of Mission Viejo. "Then as interest rates rose from 3.5 percent to 4.5 percent (last summer), literally for three to four weeks, the market just stopped."
Regionwide, median home prices increased 18.4 percent last month, to $380,000 in six Southern California counties, DataQuick reported. Southern California home sales dropped 9.9 percent, to 16,058 deals.
"Southland home sales have fallen on a year-over-year basis for four consecutive months now and remain well below average," said DataQuick President John Walsh. "We're still putting a lot of the blame on the low inventory. But mortgage availability, the rise in interest rates and higher home prices matter, too."
Although home prices remain 15 percent below the all-time high of $645,000 reached in June 2007, Orange County's housing market has recovered 65 percent of the ground lost in the housing crash.
January tends to be the slowest month of the year, reflecting deals signed during the slow Thanksgiving to New Year's holiday season.
Orange County had 5,087 homes for sale on Jan. 30, less than half the multiple listing service average, according to Steve Thomas of ReportsOnHousing.com.
That compares with 3,276 homes for sale the same time last year – an inventory shortage that created "a flash market" in the first six months of 2013, said Mac Mackenzie, a Coldwell Banker agent in Irvine.
"It was a false market set up for success," Mackenzie said. "It's now a whole new ballgame. … We're seeing a solid market, but nowhere near where it was last year."
Price reductions began to appear in late summer, Mackenzie said, and homes priced overzealously have sat on the market without a buyer. For example, Mackenzie said he sold a home in Irvine's Turtle Rock area in January 2013 for $1.45 million. Six months later, an identical home on a larger lot sold for $1.25 million.
A change in the mix of home sales has kept the median price artificially high, said Chris Pollinger, senior vice president of sales for Irvine-based First Team Real Estate.
DataQuick figures show, for example, that sales for $500,000 or less fell 32 percent in January. Sales for $700,000 and above rose 28 percent.
"The cheap seats are all taken," Pollinger said. "We're seeing a little bit more action at the high end. That's why your prices are up a bit more."
Sales drops also reflect decreased demand for existing homes, while new home sales have doubled in the past year.
Berkshire Hathaway's Rossi noted that there are about 50 new home projects actively selling in Orange County, including the 2,380-home Baker Ranch development in Lake Forest. A spokeswoman for the developer said 9,000 to 10,000 home shoppers turned out for Baker Ranch's grand opening last weekend.
"We need to educate our sellers who they are competing with," she said. "They're not just competing with the neighbor down the street. Now is the time to spruce up."